Hello and Happy Friday, CivMixers!! I am running a bit late today, so let's just jump right in, shall we?
1) In the ongoing college admissions scandal, nicknamed "Operation Varsity Blues," US District Court Judge Nathaniel Gorton has rejected the defendants' entrapment claim. Among the prominent defendants, as you probably recall, are Full (and Fuller) House star Lori Loughlin and her husband, Mossimo Giannulli, a fashion designer.
In his ruling, Judge Gorton stated that the court had reviewed the evidence and was satisfied that there was no misconduct on the part of the FBI or the prosecutors.
The couple is currently scheduled to go on trial in October on charges that they paid $500,000 to get their two daughters in as crew recruits to the University of Southern California, though neither daughter was actually a bona fide rower. In response to the charges, both Giannulli and Loughlin claimed that they believed their donations had been legitimate and not a bribe.
They were two of 50 people who were charged in this case last year. According to the documents, wealthy and often famous parents worked with Rick Singer, who admitted to being the architect of the whole buy-your-way-in plan. In exchange for hefty sums, Singer did whatever he had to to get his clients' kids into the college of their choice.
The charges involved in today's ruling were based on claims made by the defense that an iPhone revealed Singer had been working with the government in secret as of October 2018. In these notes, Singer stated that he was told to lie to the parents in order to get them to verbally incriminate themselves over the phone, which would then be recorded. He said he was told by authorities to get his clients to say that they were paying bribes and not making donations.
At one point, Singer even noted that he was encouraged to lie himself to get an admission.
The defense argued this showed that the federal agents were forcing Singer to work with them to trick the parents into admitting they knew about the bribes. The agents denied the charges, clarifying that they were simply having Singer be more explicit and more precise about what he and the clients were doing. The prosecution stated that the notes were from when Singer had yet to admit guilt and that no matter what they were dubbed, the payments involved illegal quid pro quo.
Though Judge Gorton agreed that the notes should have been turned over earlier, he chalked that up to an issue of accountability and responsibility – not willful misconduct. The couple's lawyer would not comment on today's ruling.
2) Six U.S. senators have urged a federal contractor, Maximus, to start following the social distancing guidelines at their CDC Mississippi call center and to meet with those workers who were concerned about their safety.
This follows an NBC News report on a whistleblower who stated that Maximus was not following the CDC guidelines and exposing workers to the novel coronavirus. The workers said they have experienced a lack of PPE and hand sanitizer, as well as issues with their paid sick leave.
The six senators who signed the letter were all democrats – Elizabeth Warren (MA), Benjamin Cardin (MD), Cory Booker (NJ), Kirsten Gillibrand (NY), Sherrod Brown (OH) and Bernie Sanders (VT). They gave Maximus until May 20 to respond , but the company has already issued the following statement:
"We have mandated social distancing, introduced more flexible schedules, increased sanitization and cleaning efforts, provided staff with face coverings and we continue to transition more and more employees to work from home. Mental wellness resources have been enhanced to support staff mindfulness and meditation along with virtual fitness training for exercise."
It is not clear whether company officials will be meeting with the concerned employees.
3) Gov. Andrew Cuomo has named the following individuals to the "Reimagine Education Advisory Council:"
Kawada Adams, Superintendent, Albany City School District
Jaime Alicea, Superintendent, Syracuse City School District
Jody Arnhold, Founder, Dance Educator Laboratory
Melodie Baker, Director of Education, United Way of Buffalo & Erie County
Kyle Belokopitsky, Executive Director, New York State PTA
Meg Benke, Provost, SUNY Empire State College
Jackie Burbridge, Parent, Suffolk County
Katie Campos, Partner, Strategic Collective
Anthony Collins, President, Clarkson University
Stephanie Conklin, Master Teacher, South Colonie Central School District
George Dermody, CEO, The Children Home of Wyoming Conference
Karol Mason, President, John Jay College of Criminal Justice
Austin Ostro, President, SUNY Student Assembly
Martin Palermo, Master Teacher, William Floyd School District
Roger Ramsammy, President, Hudson Valley Community College
Seema Rivera, President, Guilderland Central School District School Board
Shannon Tahoe, Interim Commissioner, New York State Education Department
Dennis Walcott, Former Chancellor, New York State Department of Education
Randi Weingarten, President, American Federation of Teachers
This group is tasked with coming up with a plan to re-open New York's schools in the short term, and establish a more comprehensive and cohesive system for teachers, administration, and students in the event that a situation like this pandemic occurs again.
4) The Amber Alert issued early this morning is still in effect. The subject of the alert, 9-year-old Gustavo Oliveria, is believed to have been taken from Tallow Wood Drive in Clifton Park at around 1 a.m. He is 4'8″, weighs approximately 100 pounds, and has short black hair, and brown eyes. He was last seen wearing shorts and a red shirt.
He was seen last with Nivaldo Oliveira, who is six feet even, has black short hair, brown eyes, and weighs 190 pounds.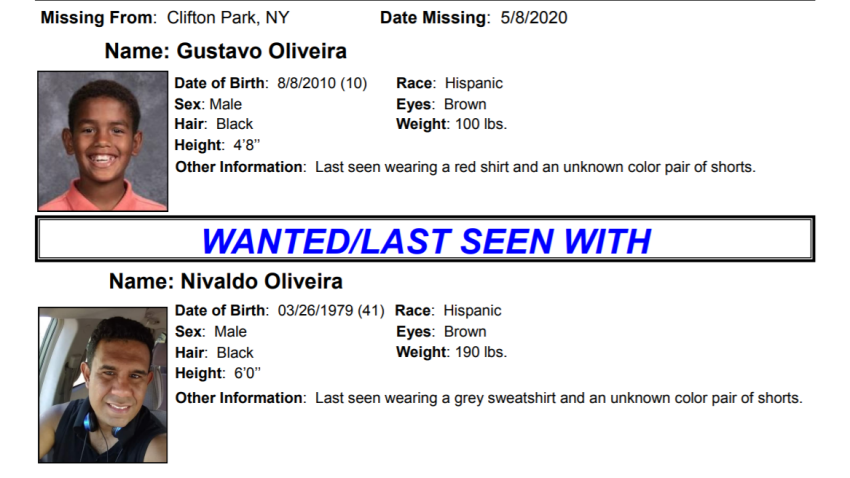 If you have any information about where these to might be, please immediately call (866) NYS-AMBER. If you see them, please call 911.
5) In what has to be one of the most endearing local stories recently, Josie Parker, a young girl in Cohoes, has reinvented Ring and Run.
Instead of merely ringing the doorbell and running, she is ringing it and leaving behind a note or treat on the doorstep simply to bring happiness to people during this time of extreme isolation.
Well, unfortunately, this weekend's weather is gloomy and SNOWY?!?!?!? Keep safe, warm, and we will see you next week.
Photo credit: George Fazio.